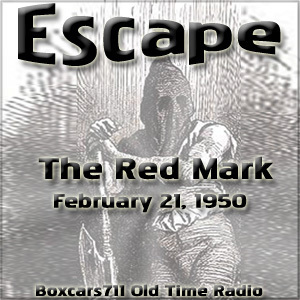 The Red Mark (Aired February 21, 1950)


Many story premises, both originals and adaptations, involved a protagonist in dire life-or-death straits, and the series featured more science fiction and supernatural tales than Suspense. Some of the memorable adaptations include Carl Stephenson's "Leiningen vs. the Ants", Algernon Blackwood's "Confession", Ray Bradbury's oft-reprinted "Mars Is Heaven," George R. Stewart's Earth Abides (the program's only two-parter), Richard Connell's "The Most Dangerous Game" and F. Scott Fitzgerald's "The Diamond as Big as the Ritz". John Collier's "Evening Primrose," about people who live inside a department store, was later adapted to TV as a Stephen Sondheim musical starring Anthony Perkins.
THIS EPISODE:
February 21, 1950. CBS network. "The Red Mark". Sustaining. At a French penal colony in New Caledonia, Monsieur De Nou, the island's sadistic executioner, is about to guillotine a young pick-pocket accused of manslaughter. De Nou regards the pick-pocket as his rival for the affections of his own, purchased bride, named Zelie. He has framed the young man for the crime. As the blade falls, De Nou discovers something extraordinary... (description written by Kristin Kramer). Harry Bartell, William Conrad, Paul Frees, Will Geer, Barbara Whiting, Junius Matthews, John Russell (author), Les Crutchfield (adaptor), James Poe (adaptor), William N. Robson (director). 30:04. Episode Notes From The Radio Gold Index.